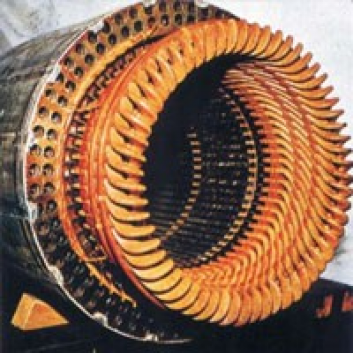 We refurbish and service high-voltage synchronous and asynchronous electrical machines
voltage level up to 10 kV.

High voltage service program includes:

* Degreasing, washing and drying of all parts of machines
* Refreshing the coil insulation
* Dynamic balancing of rotating masses
* Repair, construction and replacement of damaged parts
* Idle testing and development of test protocol

The program overhaul of HV machines includes:

* Preparation and replacement of stator and rotor coils in the "F" class insulation.
* Repair and development of the rotor cage
* Pre-packing tin metal packets for the stator and rotor
* Dynamic balancing of rotating masses
* Mechanical systems control
* Determining bearing validity with the SPM method
* Replace damaged parts with original parts or fabrication of new (shafts, bearing shields, fans, secretory case, terminal boards, sliding rings, etc.)
* Impregnation of the coils with high quality paint vacuuming process.